LazyChat is an all-in- one tool to simplify online businesses. This chatbot lets you take your orders instantly on messenger. If used properly, chatbots can make you more money through your business. At the same time, automated messaging will take care of your business on your behalf. 
Now you may be wondering if you should get a chatbot for your business. Well, you definitely should. In this blog, we are going to explain how LazyChat, a chatbot, will help you with your business. But we are not going to blabber on and throw statistics at you. Rather we will use a medium that you will definitely understand – memes.
Order management made simple
Ever became so frustrated with order management that you wanted to pull off your own hair? Yes, we get it. LazyChat has come up with a simple solution for that – A Dedicated Dashboard. 
LazyChat's dedicated dashboard allows you to manage all your customer's orders in one simple interface. Not only managing orders, but LazyChat's dashboard also shows how your business is doing money-wise, where your orders are mostly coming from, and also the number of orders you are receiving.
In a nutshell, you can have your well-deserved rest if you integrate LazyChat with your business.
Customer Support on Autopilot
If your inbox is always blowing up with orders or queries from your customers, then LazyChat is your go-to solution. LazyChat takes orders fluently and in an instant. Your customers can place orders directly from their messenger inbox and receive the receipts right after ordering. These orders can be managed directly from the dashboard. You can also set frequently asked questions, and LazyChat's chatbot will take care of all the queries on your behalf. you can save up to 80% of your customer support cost using LazyChat!
Take your brand to next level
LazyChat opens up a whole new door for marketing your business. Combining social media features with LazyChat can be very powerful. You can rebrand your image very easily with LazyChat. Like this meme, all LazyChat will complete your brand image surely.
Read this blog to read more about how you can rearrange your brand with LazyChat.
Chatbots are the future
It is predicted that chatbots will take over the customer support section for companies. As this technology is comparatively newer, many companies are still adapting to it. so get on the trend wagon and get LazyChat for your business.
Get help anytime, seriously!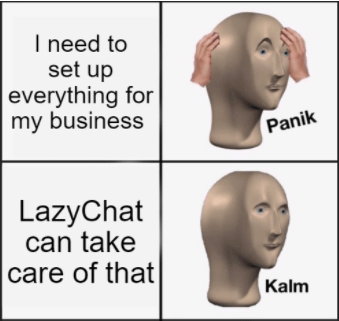 LazyChat works hard so that you can be lazy while managing your business. LazyChat's team is always there for you in order to set everything up, to answer your queries, and tend to all your problems.
So what are you waiting for? Head over to lazychat.io and start your trial now!